Treating lumber for over 25 years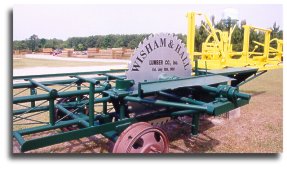 Georgia Wood was organized in 1974 by its founder and president, William H. Hall, Sr. Hall, who most friends call "Billy," began his career in the lumber business in 1950 by cutting tracts of timber with his business partner A.E. "Bub" Wisham. Together they operated Wisham and Hall Lumber Company in Crawfordville, Ga. for many years.
Georgia Wood Preserving has been producing quality Osmose brand pressure treated lumber for over 25 years. As we turn the page to a new century, we will continue to provide the quality product our customers expect at a competitive price the market demands.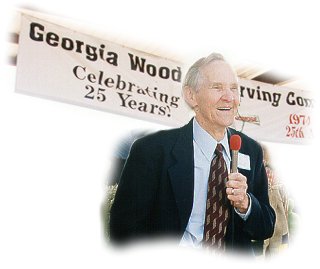 In the early 1970s, Hall formed Georgia Wood Preserving in an effort to tap into a surging market for treated lumber. The treating plant was built with the assistance and cooperation of Osmose Wood Preserving. Osmose, based in Griffin, Ga., manufactures the chemical Georgia Wood uses in its pressure treatment process.
For several years, Hall ran both the treating plant at Georgia Wood and the lumber mill at Wisham and Hall. By this time, Wisham had retired and was no longer a part of the business.
In the early 1980s, Hall closed Wisham and Hall Lumber Co. and concentrated his efforts squarely on the treating business. At age 76, he still governs the day to day operations of the company.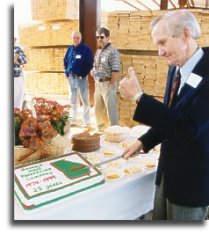 In the fall of 1999, Georgia Wood held a celebration to commemorate the company's 25th anniversary. Hall was on hand to personally thank customers and employees who have continued to make the company a success.
Company operations were shut down for the day, while employees welcomed out-of-town guests to the festivities which were held under a newly built lumber storage shed. Guests enjoyed barbecue and reminiscing, as many have had a long relationship with Hall in the lumber business.