Experience + Trust = Loyalty
Since our establishment in 1974, Georgia Wood has been producing clean, quality assured pressure treated lumber. We've been loyal to the Osmose brand of chemical since our very first charge over 25 years ago. Thankfully, our customers have reciprocated this loyalty due to the trust and dependability the names Osmose and Georgia Wood Preserving have come to represent. We sell our lumber in wholesale quantities to industries, retailers, wholesalers and others who have discovered the advantages of buying treated lumber right the first time. When you buy lumber from Georgia Wood, you are doing business with a staff that collectively has been meeting customer needs in the lumber industry for over 100 years. Service begins with trust, and our customers have learned they can depend on Georgia Wood.
"The #3 grade mark specialists"
In recent years, Georgia Wood has created its niche in the competitive treated lumber industry by specializing in the production of #3 grade mark lumber. Untreated lumber is graded at the mill according to its physical characteristics. Grain, density, wane, knot sizes and knot locations are a few of the criteria used to grade untreated lumber. We have found, as have many of our customers, that #3 grade mark lumber is quality lumber with many industrial/constructive uses but with substantial savings over higher graded lumber.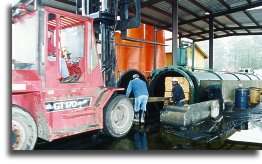 The Treatment Process
Our product begins at the site of a few select lumber mills from whom we buy our untreated (bright) southern yellow pine. This bright lumber is brought to our treating plant where it is loaded into a long horizontal cylinder and undergoes a vacuum-pressure treatment process. Once this process is complete, the lumber is resistant to rot, decay and from wood destroying pests such as termites. The finished treated product carries the Osmose® lifetime limited warranty.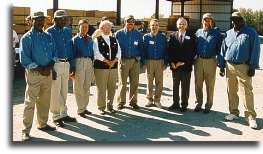 Commitment to Quality
In our never-ending commitment to provide our customers with a consistent, quality enduring product, Georgia Wood has constructed five lumber storage facilities within the past year. These storage sheds ensure all bright and treated lumber in our inventory is continuously protected from the elements. This weather protection helps maintain the quality of our products from the mill of initial purchase to the point of its final destination.
We Deliver
Georgia Wood has its own fleet of trucks delivering full truck loads of lumber primarily in six southeastern states (AL, GA, NC, SC, TN and VA). We also contract with other trucking companies and are able to ship wherever necessary. We are not limited by distance or geographical boundaries.

Bright Lumber
Meeting customer needs is our primary objective, and this often means supplying untreated lumber as well. We have long working relationships with lumber mills throughout the Southeast, enabling us to wholesale bright lumber at a competitive market price. So whether you need a mix load of treated and untreated lumber, or if your order requires a load consisting entirely of bright lumber, Georgia Wood can meet your demands.